Bisque Beauties

Great Googlie Mooglie!
Googlies are the greatest! You just can't resist their impish smile!
Click on the thumbnail picture for a larger version.
Pressing F5 on your computer will ensure that you have the most up-to-date version of my website!




Elite Googlie Soldiers. I had 5 different Elite Googlie soldiers at a recent doll show and customers were so excited to see them! Already sold are the Japanese Elite Googlie, the 2-faced Elite Googlie (Turkey & Austria) and the Uncle Sam-USA Elite Googlie. Shown above and still for sale are the German Elite Googlie (taller doll) and the English Elite Googlie (also called the "bellhop"). These two cuties are dressed in cottons & wools. Their soldiers' outfits are decorated with gold braid. Under their clothing they are each wearing simple cotton one-piece combination underwear. They have bisque heads. Their bodies are fully jointed latex composition. They also wear boots. The little English guy measures 10" and comes with his rifle....the German doll measures 10-1/2". Clothes, accessories and dollstands included. $150 each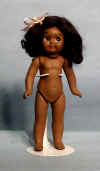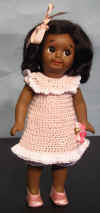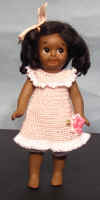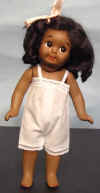 8" ethnic Kestner 221 Googlie. This doll has an all-bisque body. Her lovely dark brown complexion is enhanced with deep brown glass eyes and a black Daisy-style wig. She is wearing a cotton lace-trimmed onesie as well as a beautiful pale pink crocheted dress! And look at those pink satin slippers! $150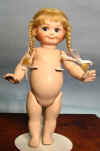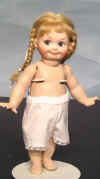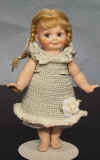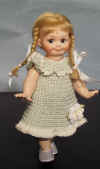 7" K*R 131 Googlie. The cutie shown here has a latex composition body with starfish hands. Her side-glancing eyes are gray glass and she has a blonde mohair wig set in braids. She also has cotton lace-trimmed drawers, white satin slippers, and a pale green crocheted dress that is just adorable! $145
9" Kestner 221 Googlies! The Kestner googlie has an irresistible smile....just the thing to improve one's mood!
Doll #1--an ethnic doll with dark brown glass eyes, black mohair wig in braids, dressed in red dotted swiss cotton, trimmed with lace and white silk ribbon.
Doll #2--an ethnic doll with dark brown glass eyes, black mohair wig in pixie cut, dressed in pink cotton gingham, trimmed with pink grosgain ribbon and pink rickrack.
Doll #3--bright blue glass eyes, blonde mohair wig, dressed in multi-color cotton print trimmed with daisies, lace and peach ribbon.
All dolls wear leather shoes, socks (rayon, silk or cotton), and white cotton lace-trimmed drawers. $150 for undressed doll, $200 for doll as dressed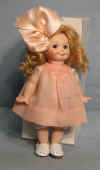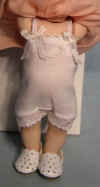 7" K*R 131 Googlie. This doll has a bisque body. She has a blonde mohair wig and bright blue glass eyes that smile at you! Her dress is made of peach organdy with a matching peach silk ribbon in her hair. She has a cute combination, trimmed with lace and silk ribbon. She is wearing white shoes. $150 as dressed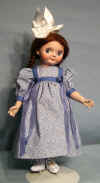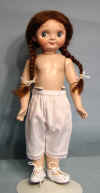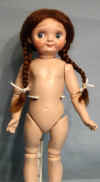 15-1/2" Einco Googlie. I always find the Einco Googlie faces so unusual, don't you? And this one is very cute. She has blue glass eyes and a warm brown mohair wig in braids. She is dressed in a vintage cotton trimmed in blue. She also has white cotton drawers and newer shoes. Her composition body is slant-jointed at the hip. SOLD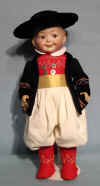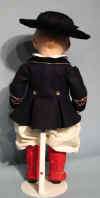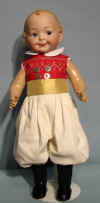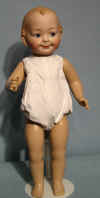 16" Hertel Schwab Googlie. I could not resist dressing one of these cute Hertel Schwab googlies in the Brittany Boy costume that you can find on my patterns-for-sale page. Even though he's German, this French regional costume suits him so well. The black wool felt jacket, red wool felt vest and red wool felt gaiters are embroidered in traditional Brittany decoration. His pantaloons, blouse and romper are white cotton. His cumberband is yellow silk. Shoes and black silk socks, as well as his black velvet hat is included. The doll has a dome head, closed mouth, blue glass eyes that are fixed, and a five piece latex composition body. SOLD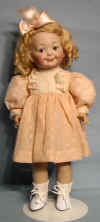 16" Hertel Schwab Googlie. Shown here is the last Hertel Schwab googlie that I will make. This girl is from mold #173. She has caramel brown glass eyes and a blonde mohair wig with a big peach bow. She has a five-piece toddler body in latex composition. She is dressed in a peach dotted Swiss dress trimmed with lace. Her shoes and rayon socks are new but look great on her. She is SOLD