15" Huret Davida Dior:
Huret #1---SOLD Huret #2---SOLD Huret #3
The three Hurets shown in the photos above are AVAILABLE now (Doll #1 & Doll #2 are SOLD). Please email me for pricing on the dolls and the underwear. Each of these three dolls uses the Dollspart body similar to the body shown in the first photograph, with the unjointed wrists and the antique gutta percha color. Underwear shown in the photos is sold separately from doll.
15" Adele Portrait Jumeau:
Shown above is an Adele Portrait Jumeau Adele. She is sold, but other Adeles will be coming soon.
15" Chantelle Barrois:
The Chantelle shown above is sold now. Other Chantelles will be coming soon.
15" Ethnic Huret Davida Dior: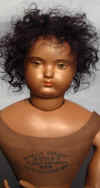 These two ethnic Hurets are available....
Above are 2 ethnic Huret dolls. It's so hard to get a good photograph of them...I think they look so much prettier in person. The doll on the left has earrings and the Huret body with unjointed wrists. Her leather collarette perfectly matches her skin color. The doll on the right has the jointed wrist body and a stamped Huret collarette. She does not have earrings. These dolls are available now....
Clothing for the 15" French Fashions:




Both dresses shown are now SOLD.
As time permits, I have been making some doll clothing for these wonderful French Fashion dolls. Above are two examples. Both dresses are made with point d'esprit netting and silk taffeta ribbon. the dresses are each lined with silk. The turquoise and white dress is available. Both dresses have been SOLD. As I have time, more fashions for the 15" French Fashion dolls using the Dollspart body will be available. Make sure to visit my website often.....
Please contact me for more information on these dolls and clothing, including pricing, at suzannesdolls@aol.com.