Bisque Beauties

German Lady Dolls
Click on the thumbnail picture for a larger version.
Pressing F5 on your computer will ensure that you have the most up-to-date version of my website!

I have two sizes of German lady dolls that I make (three are photographed but I no longer offer the smallest size). All three use an authentic reproduction German lady body with its very distinctive "wasp" waist and well-shaped bust. If you're looking for a new doll to make a wardrobe for, this lady might be it!
The largest doll, shown in the photo to the left, is a reproduction of a 16" Kestner 162 doll. The second doll shown in the photo is about 13" tall. She is a reproduction of a Simon & Halbig 152 character doll....a very rare antique doll to find! Patterns for both these dolls are available from multiple sources. Susan Sirkis is one source (www.susansirkis.com). She has a DVD called "Edwardian and After" (her item # WBR9) to make a complete wardrobe for the Kestner 16" doll shown (or your 16" antique German lady doll). The DVD also offers the same outfits for an 18" German lady and a 12" German lady. The 12" patterns on Susan's DVD will fit the Simon & Halbig 152 lady doll (shown below).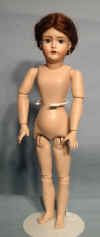 16" Kestner 162 German Lady Doll. Shown above is one completed Kestner 162 German lady doll and one Kestner 162 head. One has blue-gray glass eyes and the other has brown glass eyes. As described in the section above, a doll like this was used by Susan Sirkis to develop her wonderful Edwardian patterns. Complete doll, as shown, is $275 (SOLD).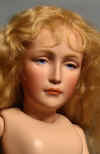 17" Simon & Halbig 152 German Lady Doll. This is the first time I have listed a German lady doll of this size. She will fit in some of the German lady doll patterns from Jean Nordquist. $265 SOLD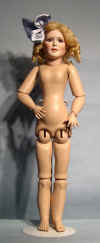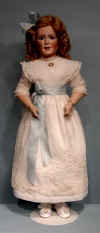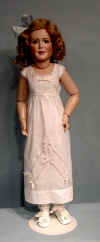 24" Simon & Halbig Mary Pickford Doll. This is the first time and only time I will be listing a Mary Pickford reproduction doll. Mary Pickford was a famous silent film actress from the early 1900s. She and her first husband, Douglas Fairbanks, were the first actors to start their own motion picture company. Mary worked with the Simon & Halbig doll company in Germany to create a doll in her likeness. Mary was a perfectionist and, after many tries (and World War I), abandoned the project. There was one prototype made....a large doll of 42"....that surfaced several years ago. The lady who bought this prototype worked with Seeley's doll company to have a mold made that was presented for the first time at a DAG convention. Although Mary intended to have the doll on a child body, the adult features didn't work well in child proportions. I have chosen to put this lovely head on a lady body instead and think she looks wonderful! Included in the price is a copy of a pattern I created myself to fit this body (patterns for dress, slip, shoes & stockings). Undressed doll & pattern $375



13" Simon & Halbig 152 German Lady Doll. I have made one more S&H 152 lady doll. She wears a pale blonde mohair wig. $215
Shown above are some fashions that are available now for the Simon & Halbig 152 doll.
---Tan printed cotton skirt and ecru batiste lace-trimmed blouse $50
---Black silk skirt and ecru batiste lace-trimmed blouse $50
---Pale turquoise blue silk dress with silk chiffon overlay with beaded trim $50
---Ivory silk & ivory lace dress $125