Bisque Beauties

French Bebe Dolls
Click on the thumbnail picture for a larger version.
Pressing F5 on your computer will ensure that you have the most up-to-date version of my website.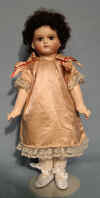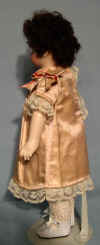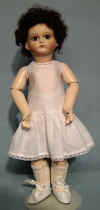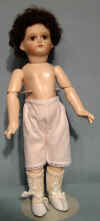 14" Schmitt---Shown above is a reproduction of an antique Schmitt doll. Although the name sounds like a German dollmaker, Schmitt was a manufacturer of dolls in France. This lovely reproduction has brown Hand Glass paperweight eyes and a dark brown mohair wig. Her painting is quite pretty, with dark eyelashes and a pinkish eyeshadow over the eyes as the antique doll would have had.
She is wearing a vintage peach silk dress with ribbon decoration at the shoulder and lace at the hem, sleeve bottom and neck. Her underwear is newer-made and is lace-trimmed cotton. She is wearing leather shoes and silk knit stockings.
$400 for doll as dressed
17" Tete Jumeau---This girl uses the FB14 body from Seeley/New York Doll Products that is such a perfect fit for the Mary Frances wardrobe (click on this link "Mary Frances Wardrobe" to see more about the Mary Frances wardrobe). She has dramatic paperweight eyes from Hand Glass in England and a lovely auburn human hair wig from France. The photos make her expression perhaps a little less friendly than she is in person. This is actually one of those dolls that I have made where I am considering keeping her for myself because I consider her so beautiful! Doll is SOLD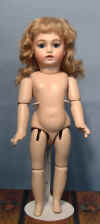 11" Nursing Bru. Here is a lovely Nursing Bru face. Although she might be more correctly placed on a leather body, I think the head works quite well on this reproduction compsotion body! She has spiral-threaded Hand eyes and a dark blonde mohair wig. She may be able to wear some of the Bleuette-sized clothing. $250
8" 23" EJA ---The EJA antique doll is a very rare Jumeau made around 1882. The antique doll is marked "EJ" over an "A". This reproduction doll has blue-gray paperweight eyes from Hand Glass in England. Her wig is a lovely human hair wig in dark auburn. $425
14-1/2" Tete Jumeau (reproduction doll called "Lyric Jumeau"). This is a reproduction of a Tete Jumeau that Seeley's called the Lyric Jumeau. She has big brown paperweight eyes and a Wendy Feidt blonde mohair wig. $375
19-1/2" H Doll. Here are two reproductions of the very rare "H" doll by Halopeau in France. The doll on the left has a dark brown human hair wig and gray blue Hand paperweight eyes. The doll on the right has a blonde human hair wig and light blue Hand paperweight eyes. $400