Bisque Beauties

French Bebe Dolls
Click on the thumbnail picture for a larger version.
Pressing F5 on your computer will ensure that you have the most up-to-date version of my website.
Here are two wonderful dolls that could be your Mary Frances doll. Both of these dolls use the FB14 body from Seeley/New York Doll Products that is such a perfect fit for the Mary Frances wardrobe (click on this link "Mary Frances Wardrobe" to see more about the Mary Frances wardrobe). The doll shown on the left is a Jumeau Triste with clear, bright blue paperweight eyes and an auburn human hair wig. The doll on the right is a Pintel Godchaux with brown paperweight eyes and a dark blonde mohair wig with extensions. Just an FYI----it has become more difficult for me to get the FB14 bodies so I may not be making many more of these! $400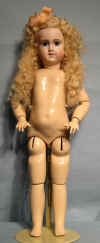 24" EJA Jumeau---Wow....what a stunner! The EJA Jumeau antique doll is rare and was available in only one size. This reproduction EJA has a wonderful look about her, with the splendid Hand Glass eyes and the incredible blonde mohair wig with extensions. $425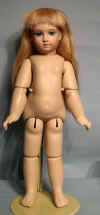 20" "H" doll---The French H doll is one of the rarest antique dolls. It was made by Halopeau around 1885. This reproduction captures a little of the haunting, pensive beauty of the doll. She has blue Hand Glass paperweight eyes and a blonde human hair wig. $400 SOLD


23" Ethnic EJ Jumeau---This doll is a darker ethnic doll than I usually make. She has applied ears, just like the antique EJ would have had. Her brown eyes are mesmerizing! $425 SOLD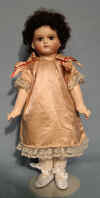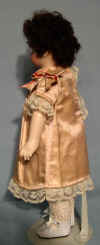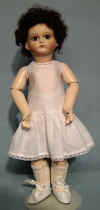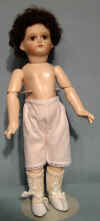 14" Schmitt---Shown above is a reproduction of an antique Schmitt doll. Although the name sounds like a German dollmaker, Schmitt was a manufacturer of dolls in France. This lovely reproduction has brown Hand Glass paperweight eyes and a dark brown mohair wig. Her painting is quite pretty, with dark eyelashes and a pinkish eyeshadow over the eyes as the antique doll would have had.
She is wearing a vintage peach silk dress with ribbon decoration at the shoulder and lace at the hem, sleeve bottom and neck. Her underwear is newer-made and is lace-trimmed cotton. She is wearing leather shoes and silk knit stockings. SOLD