Bisque Beauties

French & German Child Dolls
Click on the thumbnail picture for a larger version.
Pressing F5 on your computer will ensure that you have the most up-to-date version of my website.
17" Pintel Godchaux. This Pintel Godchaux reproduction doll uses the FB14 body from Seeley. This body works perfectly for the Mary Frances doll and the Mary Frances wardrobe (click on this link "Mary Frances Wardrobe" to see more about the Mary Frances wardrobe project). She has blue paperweight eyes and a golden blonde mohair wig SOLD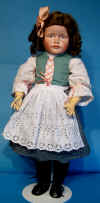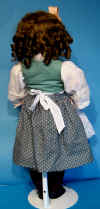 21" K*R 114 "Gretchen". I loved how this doll turned out so much that I kept her for myself for many years. I'm ready to let her belong to someone new now. She has teal blue painted eyes and nicely-blushed cheeks. Her wig is a brown mohair. She wears cotton drawers and petticoat (nothing fancy so no photo provided). She is dressed in a floral dirdnl skirt, white lace-trimmed blouse, laced green cotton vest and white eyelet apron. She also has long brown cotton socks and black leather shoes. She is ready to put on your shelf! SOLD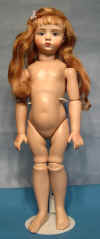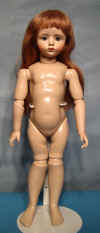 19" A.Marque--Shown above are two 19" A.Marque reproduction dolls. They both have the thoughtful, pensive expression of the antique A.Marque head. One doll has bright blue paperweight eyes, while the other doll has blue-gray paperweight eyes. Both wigs are blonde human hair. Her body is not exactly like the unique body of the A.Marque antique doll, but she does have A.Marque bisque hands, and the long, slender feet of an antique A.Marque SOLD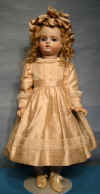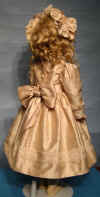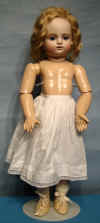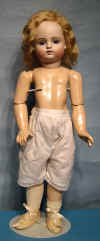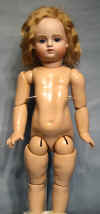 23" Block FG (Gaultier). The antique Block FG is an early FG marked with "FG" in block letters at the back of the bisque head, as opposed to the fancier scroll letters of the later FG bebes. This lovely reproduction is copied after the earlier Block FG doll. She has incredible blue Hand paperweight eyes. Her body is a reproduction of an early French body, with loose ball joints at the shoulder, elbow, hips and knees, with unjointed wrists. She is wearing an ecru silk dupioni dress, trimmed with silk at the hem and bodice. Her underwear is cotton and lace-trimmed. Her lightly wired hat is made from dupioni to match the dress, and is trimmed with ribbons and flowers. SOLD
PATTERN: Ethnic Folklore Brittany Costume for 16" Doll --Seeley's FB14 body--This pattern is for a boy's French folklore costumer from the Brittany region. It was specifically drafted to fit a Seeley's FB14 body. The pattern includes blouse, pants, vest, cummerbund, jacket, gaiters and hat.
$20 for the complete pattern (includes shipping in most cases)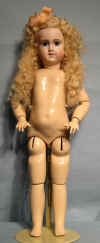 24" EJA Jumeau---Wow....what a stunner! The EJA Jumeau antique doll is rare and was available in only one size. This reproduction EJA has a wonderful look about her, with the splendid Hand Glass eyes and the incredible blonde mohair wig with extensions. SOLD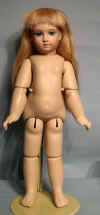 20" "H" doll---The French H doll is one of the rarest antique dolls. It was made by Halopeau around 1885. This reproduction captures a little of the haunting, pensive beauty of the doll. She has blue Hand Glass paperweight eyes and a blonde human hair wig. SOLD


23" Ethnic EJ Jumeau---This doll is a darker ethnic doll than I usually make. She has applied ears, just like the antique EJ would have had. Her brown eyes are mesmerizing! SOLD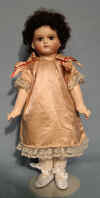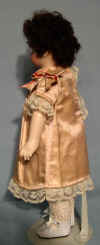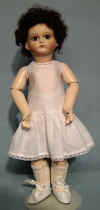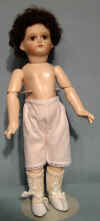 14" Schmitt---Shown above is a reproduction of an antique Schmitt doll. Although the name sounds like a German dollmaker, Schmitt was a manufacturer of dolls in France. This lovely reproduction has brown Hand Glass paperweight eyes and a dark brown mohair wig. Her painting is quite pretty, with dark eyelashes and a pinkish eyeshadow over the eyes as the antique doll would have had.
She is wearing a vintage peach silk dress with ribbon decoration at the shoulder and lace at the hem, sleeve bottom and neck. Her underwear is newer-made and is lace-trimmed cotton. She is wearing leather shoes and silk knit stockings. SOLD