Bisque Beauties

All Bisque & Small Dolls
Click on the thumbnail picture for a larger version.
Pressing F5 on your computer will ensure that you have the most up-to-date version of my website!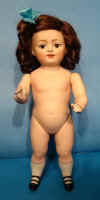 #1--9" Large all-bisque doll. This doll are one of the largest reproduction all-bisque dolls that is available. She is a special Kestner 150 mold, with the open-closed mouth with two molded-in teeth. The doll has deep brown glass eyes and a brown mohair wig. She has white stockings with a blue band at the top and black double-strapped shoes. $165 SOLD
#2--Small wooden boxes with all-bisque dolls. Shown above are 2 decorated wooden boxes that each contain a small 5" dressed all-bisque Faberge mignonette. Each doll comes with her own hat, shown on the left hand side of the box. $175 for each box, as shown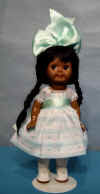 #3--9" Kestner 221 Googlie! The Kestner googlie has an irresistible smile! This ethnic doll has dark brown glass eyes and a black mohair wig in braids. She is dressed in a white and light aqua striped dress, trimmed with aqua silk ribbon and lace. She has leather shoes, socks and white cotton lace-trimmed drawers. $140 undressed, $175 doll as dressed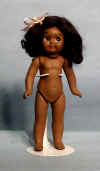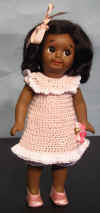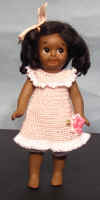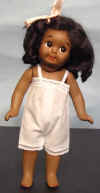 #4--8" ethnic Kestner 221 Googlie. This doll has an all-bisque body. Her lovely dark brown complexion is enhanced with deep brown glass eyes and a black Daisy-style wig. She is wearing a cotton lace-trimmed onesie as well as a beautiful pale pink crocheted dress! And look at those pink satin slippers! $150 as dressed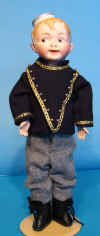 #5--Elite Googlie. Shown is a reproduction of an Elite googlie...the English Elite Googlie, also called the "Bellhop" because of his hat. His outer garments are wool, trimmed with gold braid and tiny round buttons. Under his clothing, he is wearing a simple cotton one-piece combination underwear. His bisque head, with painted eyes, is on a fully jointed latex composition body. He also wears boots. This little English guy measures 10". He is shown posed next to an 8" antique googlie (not for sale). Dollstand included. $135



#6--Shown is a doll made by me from the Rose Pinkul mold for one of her Itty Bitty Sweet Things. This all-bisque multi-jointed doll is about 8". She has painted eyes and a mohair wig. She is dressed in a shepherdess-type dress. Now all she needs is the sheep! $140 dressed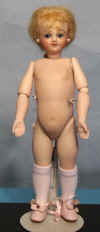 Sold--Shown is a 5-1/4" all-bisque Periwinkle. This precious doll has jointed elbows! She has tiny blue glass eyes and a blonde mohair wig with a braid down the back. She is wearing small silk socks and pink leather shoes. $145 undressed, $20 for the shoes & socks --SOLD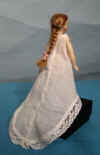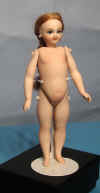 Sold--Here is another 5-1/4" Periwinkle all-bisque doll. This doll has a dark blonde mohair wig with a double braid down the back. She has blue glass eyes. She is jointed at the hip & shoulders, but not jointed at the elbows like #3 above. She is shown in a long cotton lace-trimmed petticoat and a silk satin dress trimmed with lace and ribbon. SOLD
SOLD--an ethnic Kestner 221 googlie doll with dark brown glass eyes, black mohair wig in braids, dressed in red dotted swiss cotton, trimmed with lace and white silk ribbon.
SOLD--a Kestner 221 googlie doll with bright blue glass eyes, blonde mohair wig, dressed in multi-color cotton print trimmed with daisies, lace and peach ribbon.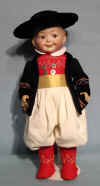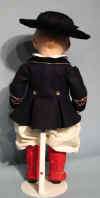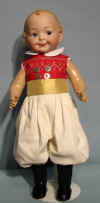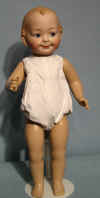 SOLD--16" Hertel Schwab Googlie. I could not resist dressing one of these cute Hertel Schwab googlies in the Brittany Boy costume that you can find on my patterns-for-sale page. Even though he's German, this French regional costume suits him so well. The black wool felt jacket, red wool felt vest and red wool felt gaiters are embroidered in traditional Brittany decoration. His pantaloons, blouse and romper are white cotton. His cumberbund is yellow silk. Shoes and black silk socks, as well as his black velvet hat is included. The doll has a dome head, closed mouth, blue glass eyes that are fixed, and a five piece latex composition body.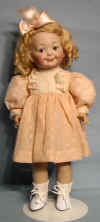 SOLD--16" Hertel Schwab Googlie. This girl is from Hertel Schwab mold #173. She has caramel brown glass eyes and a blonde mohair wig with a big peach bow. She has a five-piece toddler body in latex composition. She is dressed in a peach dotted Swiss dress trimmed with lace.