Bisque Beauties

Antique & Vintage Dolls
Click on the thumbnail picture for a larger version.
Pressing F5 on your computer will ensure that you have the most up-to-date version of my website!
Most items on this page are returnable for any reason. I will refund the purchase price only and not shipping. I will ship via USPS, unless requested otherwise, and will send the least expensive way I can. If it is stated that shipping is included in the price and you buy multiple items, I will adjust the shipping to reflect actual shipping costs.
All the dolls shown here can be returned. It can be hard to buy via a website photo, although I think the photos here give good information about the condition of the doll you're purchasing. You can always ask questions or request more photos of things that are not clear. My email is (suzannesdolls@aol.com or mcbraar2000@yahoo.com).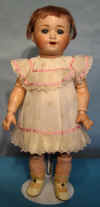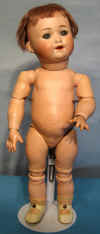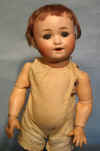 This doll has the best face! She's a 14-1/2" German toddler with the marks "W&Co." "201" "Thuringia" "6". The W&Co mark is attributed to Erste Steinbacher Porzellanfabrik of Steinbach, Germany. She has her original sleep eyes and unbroken bisque (although there are a few pepper spots and a couple of pits). She also has her original wig....a bit sparse but I hated to replace it. Her toddler body is multi-jointed with a fat tummy. She still has her original combination underwear, socks and white center-snap shoes. Her pink & white dress is newer but suits her so well! $225...shipping extra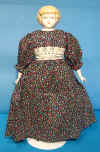 Here is a 14-1/2" vintage reproduction blonde-haired glazed china head doll. This doll was made from a kit around 1975 (about 45 years old). The back of the shoulderplate is signed "Emma" "Tudor" "1974". Her body is a typical china head body, made from good cotton muslin with joints at the hip for sitting. Her upper cloth arms are attached at the shoulder. She is wearing cotton drawers and petticoat, trimmed with cobalt blue lace. The petticoat has a Swiss eyelet ruffle. The dress is a black cotton print with small green, red and white flowers. Her glazed hands and black booted feet are in perfect condition. $10...shipping extra



This 12-1/2" reproduction She is incised on the back of the shoulderplate "N. Turner". She has a bisque shoulderplate, bisque lower arms, and bisque lower legs with painted brown shoes. Her body is cotton muslin (unjointed...cannot sit). She wears Cluny-lace trimmed drawers, white rayon satin lace-trimmed petticoat, and a deep turquoise poly-silk dress, trimmed with pleated lace and lavender-blue tulle panels. $10...shipping extra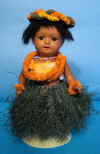 I've had this Schoenau Hoffmeister "Hanna" doll for a long time. These ethnic Hannas are not really rare dolls, but I think this one is unusual because she has so many of her original clothing items. She has both ankle wreaths, both wrist wreaths, her neck wreaths and her hair wreath. Her cotton top has its original soft stuffing, adding a little bit of a bust to this girl. A few years ago, the elastic had gotten so old it needed to be replaced. With a painted bisque head like this, any time the wig is removed, some of the paint goes, too. That's what you're seeing in the close-ups of the head. She has no damage other than the missing paint. A real sweetie! $115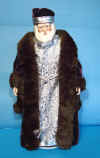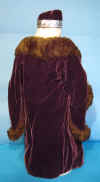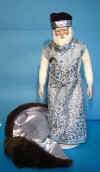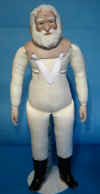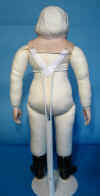 I have two of these Santas sculpted and painted by Beverly Walters and must let one go. This Santa shoulderhead, along with his hands and black porcelain boots, was the souvenir doll for the 1980 UFDC convention. Included with him was a body pattern, which I have made. I also dressed him in deep purple rayon velvet with brown fur trim, a silver brocade tunic trimmed with silver braid. $125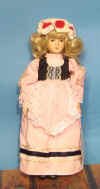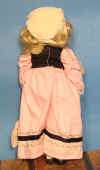 Here is a vintage bisque doll. It is made by Russ Berrie & Company in Oakland, New Jersey. This doll is called "Gretchen" and represents German, as part of the international series from Russ. She is in excellent condition, with her original box and hang tag. Her head, lower arms and lower legs are bisque, with a cloth body. She has painted black slippers. $8...shipping extra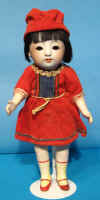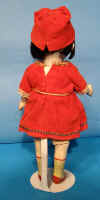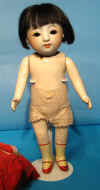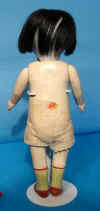 The Japanese sweetheart shown here is 10-1/2". As far as I can tell she's all original.... her body, her glued-on drawers (there's a red stamp at the back with wording that I can't read), her dress and hat in the 1920-30s style. Her incised markings are in Japanese which tells me that perhaps someone bought her in Japan as a souvenir and brought her to the US. If she had been imported to the US, she would have the Japanese manufacturer's name in English, I believe. She has sleep eyes. I haven't been able to get a good photo of her eyebrows (still trying)....in the photos they look like one gray wide brow, but there are delicate, individually painted hairs for each brow. When I bought her, I had thought to take her head and put it on a Bleuette reproduction body to have an Oriental Bleuette, but she is so "just right" as she is, I hated to take her apart. I'm "space-challenged" right now or I would keep her! $85...shipping extra
Here's a TLC 8" Betsy McCall doll from the 1950s-1960s. This doll has blonde hair. She is missing the barrette on the left side. She has the rubber skull cap. There is some hair loss at the upper left hand side. The wig, other than this area, is very full and very pretty longer hair. Her eyes open and close easily. She does not have a crotch split. Her knees has tiny splits and there is a small flare to each knee. Her right leg is very loose and has just recently started to fall out when she is picked up! Yikes! But she could be a good "parts" doll, or an extra model if you have more Betsy costumes than Betsy dolls. $20 SOLD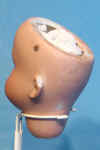 This is an A.M.390 head with a 8-1/4" head circumference. There are no hairlines or breaks, but there is a chip out of the left ear....not noticeable from the front and when wigged. There are some paint scrapes on the face...a few on the lips and brows and cheeks. The head still has the original brown sleep eyes in the original sleep setting $20 SOLD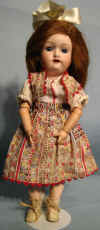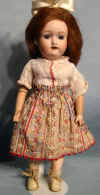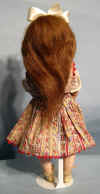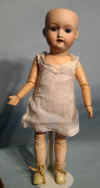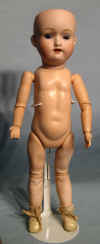 We often overlook dolls made in Japan and think of them as "poor quality" but this 12-1/2" little girl begs to disagree! She was made in Japan to compete with the open-mouthed girl dolls from Germany. If you didn't know the mark on the back of her head was from the Japanese firm, Morimura Brothers, you might think she was German. She has her original composition body and comes with what I believe to be her original onesie, shoes & socks. I'm not sure about the rest of her clothing but it is certainly of the same time period that she is from. Her bisque is beautiful...on a par with nicely-made German dolls. She has blue sleep eyes with painted lower lashes. Her brows are a light multi-stroke brown. She wears a brown human hair wig. Just a lot of good stuff going on here! SOLD
Here's an 11" Grodnertal reproduction doll. The underwear is 100% cotton and lace-trimmed, made to fit her exactly. There are 3 pieces....a chemise, a pair of drawers, and a petticoat. Her dress is of a muted 100% cotton print, trimmed at the neckline in sage green silk. SOLD