Bisque Beauties

Antique & Vintage Dolls
Click on the thumbnail picture for a larger version.
Pressing F5 on your computer will ensure that you have the most up-to-date version of my website!
Most items on this page are returnable for any reason. I will refund the purchase price only and not shipping. I will ship via USPS, unless requested otherwise, and will send the least expensive way I can. If it is stated that shipping is included in the price and you buy multiple items, I will adjust the shipping to reflect actual shipping costs.
All the dolls shown here can be returned. It can be hard to buy via a website photo, although I think the photos here give good information about the condition of the doll you're purchasing. You can always ask questions or request more photos of things that are not clear. My email is (suzannesdolls@aol.com or mcbraar2000@yahoo.com).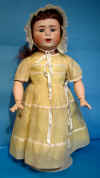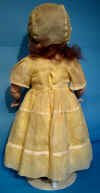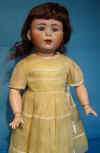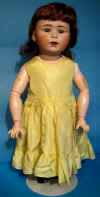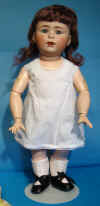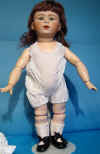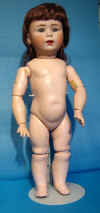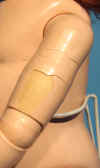 The antique doll shown above is a little over 18" tall. She is German and has a wonderful toddler slant hip jointed body! She is a Jutta character face sold by Cuno & Otto Dressel. It is possible that the head was made by Simon Halbig, as the company was among the suppliers of doll heads to Cuno & Otto Dressel. I suggest that because the painting on the head is outstanding, with finely painted brows and lashes. This doll has an open mouth with tongue. She has blue glass sleep eyes. She has a brown mohair wig. She is wearing a white lace-trimmed cotton onesie and slip (newer), and a vintage yellow rayon taffeta slip with yellow organdy over-dress. She has replacement shoes & socks that are appropriate in style. The back of her head is marked "42" "Jutta" "1916".
Condition: Her fingers and toes are all perfect, with the original red outlines to them. She does have some chipped paint to both upper arms. There is a mildly rough place on her bisque left forehead that appears to be kiln dust that was fired on at the time of making. She has a discoloration to the bisque in the front forehead. This also happened at the time she was made....I have had this type of bisque issue happen to me as I make dolls. I have often wondered if it's to do with organic matter that fires to a slightly different color when the greenware head becomes porcelain. She has a small rim chip at the back of the head...there are no hairlines from this. She has no hairlines or repairs (although I have wondered if the tongue is replaced). $550...shipping extra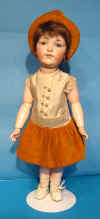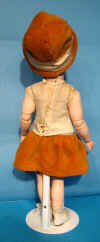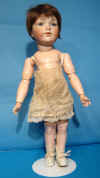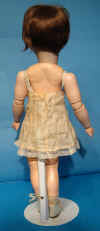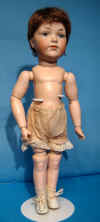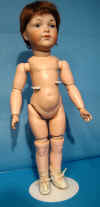 Shown in this section is a flapper doll by Armand Marseille. She is marked "Armand Marseille" "Germany" "400" "A.0 2. M." She stands 15" tall. Her flapper body, with high knee joints and slanted hip sockets, is in excellent condition with no missing fingers or toes, and all the original red painted lines that one should see. She has beautiful blue glass sleep eyes with mohair lashes. Her short brown mohair wig is a replacement although her original wig and pate will come with her.
Her clothing looks to be original. Her drawers have age-related soil and darkening. There is a small hole in the middle front of the drawers. Her slip, of the same fabric, has the same age-related darkening. I have not laundered any of her clothes, by the way. Her dress and hat appear to be factory-made. The rust orange corduroy is used cross-wise as the skirt, with an interfacing backed ivory silk in the front of the dress. The armholes are trimmed with lace. The pseudo buttonholes have a bit of floss to simulate a buttonhole and a round woven button added. The hat is made of the same rust orange corduroy, lined with interfacing. A strip of ivory silk trims the hat with a woven button at the juncture. Her socks are silk and her shoes oil cloth. A lovely presentation! $1550...shipping extra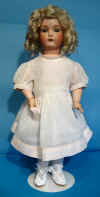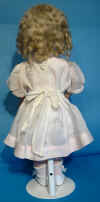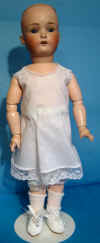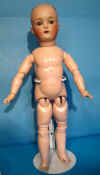 This 15-1/2" antique German bisque doll above has unusual markings on the back of her head. She looks like a Kestner 171 (the Daisy mold) but her markings do not initially indicate Kestner and there is no "171" or mold number on the back of her head. There is "6" at the top of the head, and "39" at the bottom, along with "Germany". The "39" seems to indicate her size in centimeters (39 cm is about 15-1/2"). The book, "The Main Street Dictionary of Doll Marks" by Jean Bach, has an illustration of the mark which is the same as on this doll's head (p. 71) and attributes the mark to Kestner.
This doll has lovely coloring and her original blonde eyelashes still exist! She has sleep blue eyes. Her blonde mohair Daisy wig is a replacement. Her body is in good condition....she has all her fingers, with most of the original red outline. Her feet have a few small issues...the bottom of the right foot is missing (not pictured), there is some missing paint from the toes on the right foot, and there is a small hole in the side of the left foot.
She is wearing white drawers (not shown) and a newer white cotton slip. Her very pale pink cotton dress is vintage and ties in the back. Her shoes and socks are newer replacements in the correct style. $225...shipping extra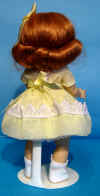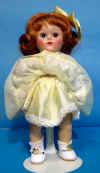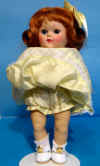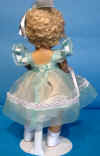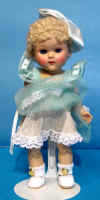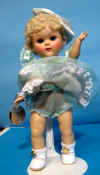 Look at these sweeties! They are reproductions of the painted lash, jointed Ginny from the 1950s. David from Vogue Doll used to bring these reproductions, unboxed, to the UFDC convention around 2005 or so. I probably bugged him to death because I would find a doll whose hair style and color I liked and another doll whose clothes I liked, and would ask his permission to switch them out, which he so graciously gave.
I love the auburn hair on the doll wearing the pale yellow organdy dress trimmed with white lace. She is also wearing a poly/rayon taffeta half slip and panties. The doll with the caracul wig is wearing a pale seafoam organdy dress trimmed with lace, as well as a white half petticoat and organdy panties. They have been lovingly displayed in a cabinet and are in excellent condition. They never had a box....like I said, these dolls were unboxed and on a UFDC salesroom table. The blonde doll has a Vogue tag. The redhead has misplaced her tag....I know it's somewhere "safe" but I can't remember where that is! $35 each....shipping extra
Here are two antique bisque-headed Indian dolls. The scowling Indian doll on the left is 11-1/2" tall. He is in excellent original condition. His head is unmarked except for a "5/0" size mark low on his neck. His clothes have never been removed. He has black glass eyes and a 5-piece composition body with molded & painted shoes. His mouth is open with 4 tiny teeth and a slightly off-center accent line on the bottom lip. There's a tiny nose rub, and some kiln dust at the corner of his mouth.
The Indian doll on the right is 10" tall. He also is all original and on a 5-piece composition body with molded & painted shoes. His black/dark brown glass eyes have a bit more of a paperweight to them, giving greater expression. His mouth is open with 4 small square cut teeth. His clothes have never been removed and look incredibly fresh, with no stains or discoloration. His head stringing is a bit loose resulting in a wobbly head. He has a slight nose rub (always easier to see on ethnic dolls because of the darker complexion on a white bisque head!). He is marked with what looks to be a "2" over an "0" on the back of his head.
$95 each....shipping extra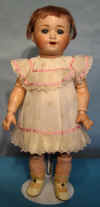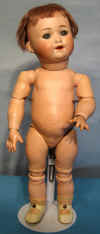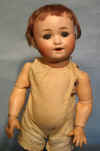 This doll has the best face! She's a 14-1/2" German toddler with the marks "W&Co." "201" "Thuringia" "6". The W&Co mark is attributed to Erste Steinbacher Porzellanfabrik of Steinbach, Germany. She has her original sleep eyes and unbroken bisque (although there are a few pepper spots and a couple of pits). She also has her original wig....a bit sparse but I hated to replace it. Her toddler body is multi-jointed with a fat tummy. She still has her original combination underwear, socks and white center-snap shoes. Her pink & white dress is newer but suits her so well! $225...shipping extra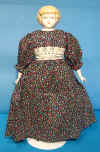 Here is a 14-1/2" vintage reproduction blonde-haired glazed china head doll. This doll was made from a kit around 1975 (about 45 years old). The back of the shoulderplate is signed "Emma" "Tudor" "1974". Her body is a typical china head body, made from good cotton muslin with joints at the hip for sitting. Her upper cloth arms are attached at the shoulder. She is wearing cotton drawers and petticoat, trimmed with cobalt blue lace. The petticoat has a Swiss eyelet ruffle. The dress is a black cotton print with small green, red and white flowers. Her glazed hands and black booted feet are in perfect condition. $10...shipping extra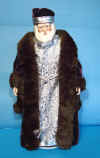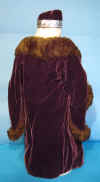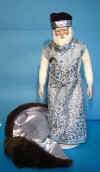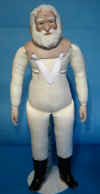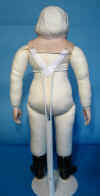 This is a wonderful 16" Santa. The head and body parts were sculpted and painted by Beverly Walters. This Santa set was the souvenir doll for the 1980 UFDC convention. I have made his body using the body pattern included with the souvenir set. I also dressed him in deep purple rayon velvet with brown fur trim, a silver brocade tunic trimmed with silver braid. $125