DOLL MAKING SUPPLES (shipping is additional....make me an offer on all of it!):


Painting caddy. What a wonderful invention! I have one of these that I use and love! Get plain white tiles from your local home improvement store to use for mixing china paints on. When you've finished for the day, put the tile in this box and close the plexiglass door. This provides a environment that's more dust-free. Ingenious! $8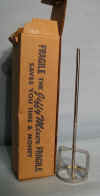 A slip mixer. Some people put this gadget on their drill and use it to stir slip. I bought this one but never used it....I still use the old paint stir stick method, but some people swear by this! $10

Four boxes of cones. There are two boxes of witness cones...one is Cone 6 (25 large cones) and one is Cone 7 (50 large cones). There are 2 boxes of sitter cones....one is Cone 7 (50 small cones--never opened) and one is Cone 8 (50 small cones--just a few used). $10




Two brush-holding boxes (brushes shown are NOT included!). Here are two items that will hold your brushes and keep them safe. One is a brush holder from Kemper with different sized loops to hold your brushes. The other is a pale gray plastic box with slots to hold your brushes. $10
So all of the stuff above is all together in one lot. Everything is unused except for a few of the eyes sizers and a bit of the Apt II. I'm sure there's something here that you need!
From left to right....(1) two sanders used to clean out neck & arm sockets. (2) Sponges, sanders, Dolly Dough, nichrome wire pins--two types--one is light and the other heavier. (3) Close-up of nichrome wire pins (used for Christmas ornaments for instance). (4) Close-up of heavier nichrome wire. (5) Fourteen eye sizers--sizes 32/30, 28/26--two of them, 24/22--two of them, 20/18--two of them, 18/16, 14/16--two of them, 14/12, 12/10. The single-headed eye sizer is 18mm. (6) Area medium, Anti-blotch, Apt II, and Seeley's porcelain tint in Ebony and Lotus Blossom. $20